Skua Surfboards

Skua Surfboards was started in 2001 when I took up Design and Technology in school as one of my A levels. As I`m so passionate about surfing I insisted on making a surfboard as the major project. The project had to involve new and inovative ideas, which was really exciting coming up with new ideas. The school doesn't have the facilities for glasswork so I had to make the board at home, this wasn't a problem as we have a workshop for the family business "Swallow Boats". That Christmas my father bought me a book called "Surfboard" which I read from cover to cover, dreaming of crazy artworks and futuristic board shapes. I did a lot of research into board design, which I stuck into my froject to boost my marks. I became more and more keen to make a board that would be good to perform tricks as I was becoming better at skating, and wanted to try the tricks on a surfboard. Also my mate pulled off a 360, and as I`m really quite competitive, I was determinged that I would do one too. After a couple of months research and finally persuading mum to buy the materials as it was a school project I made my first board. The build process was a bit hectic with unforseen problems arising half-way through glassing with the resin going off (hardening)! However the board turned out fine with no problems and included the new ideas of straight edged fins, small stringers at the tail to prevent deck denting and a strong leash loop system. It is the board riden in the two small photographs at the top of this page.
Once becoming over my fear of swimming in the sea in Portsmouth (where I once said "its too wavey!" to father as he was teaching me to swim in the choppy but flat waters of the local beach!) I soon became very keen on watersports. We moved to Wales when I was 5 and I grew up sailing with my father and brothers: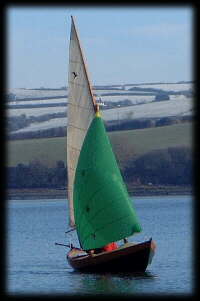 As I became older I started canoeing in the small surf at Poppit Sands, then body boarding with my brothers as they surfed. I then started sea rowing in the local league with a team of my school mates. At about that time I was given a board by one of my brothers friends. It was an old school 80's thruster, very bouyant and my surfing soon progressed. Since then I`ve repaired many boards including two that were snapped in half (and they are still in one piece and being ridden today). I have now shaped 13 boards and about to finish my 14th.
Having a go at three! My older brother and I at Poppit Sands.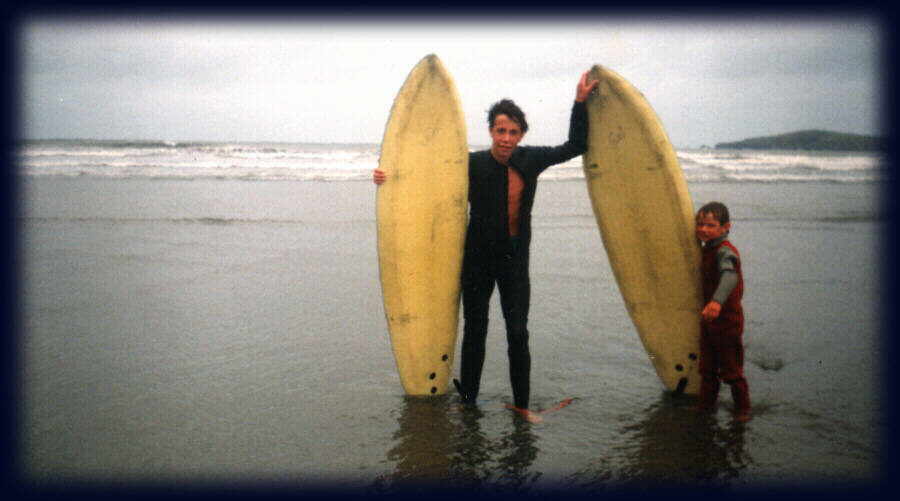 Then again at 17:

Below shows my Brother (left) and I, going surfing at our local break with two Skua Surfboards: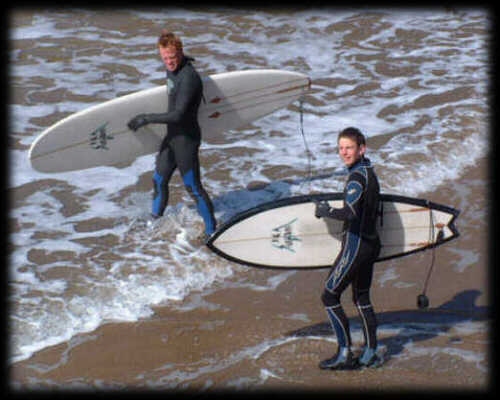 As you can probably see I am only 18 years old and I have just over two years worth of experience in shaping surfboards, however I properly started surfing when I was about 11 years old, then moved to body boarding for two years before owning my first surfboard which was a 6`4" Bunty. My first boards have many features which are not thought about on normal boards including extra stringers at the stern to help prevent denting the deck near the tail, and stronger leash attachment systems.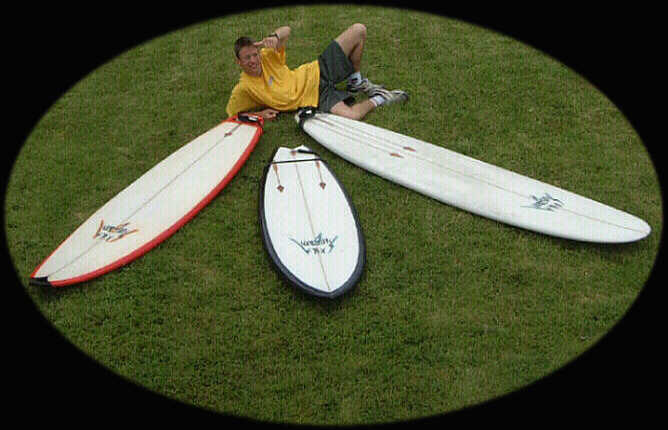 Location:
Located just outside there are plenty of breaks to surf and test new boards at including Poppit Sands, Mwnt Beach, Aberporth, Tresaith and breaks a little further afield like Whitesands and Freshwater West.
1 1/2 miles down the Gwbert Road, out of the top end of Cardigan, the last house on the left before reaching the estuary: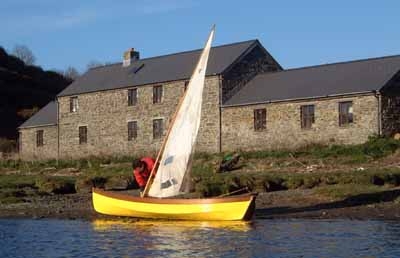 For more information on the features of my boards go to the Skua Special Features link at the top of this page. I now use future fins as standard, however my original fins or any extra woodwork is an optional extra that you may like to consider having in/on your board.
Skua Surfboards provides a friendly service and fair prices for the surfboards.