Special Features of Skua Surfboards
In my opinion the best feature of my boards are the fins. My new system has helped me perform my first 360, and tailslides are now much easier. If you look at the fins and rudders on the high speed yachts they all have straight leading and trailing edges, as it is the most efficient shape, so I decided to use this advantage on my boards.
The fins can simply be unscrewed, and taken off the board and now the baggage handler won't have fun kicking them off!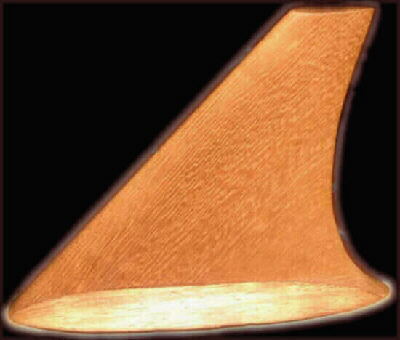 To mount the fins I use two short stringers that extend about 1/3rd of the boards length. These stringers don't add nearly as much weight as full length stringers, and they provide strength where it is very needed. Deck denting is a big problem on most surfboards and is usually caused by duck diving, however these stringers help prevent the denting and therefore reduce the risk of delaminations.
The arrows at the end of the stringers were originally designed to increase the surface area of the end of the stringers, but I think they also look quite good.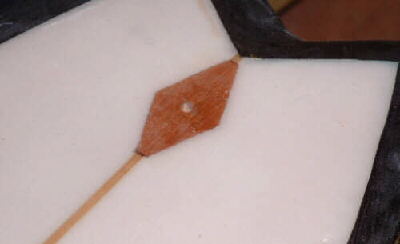 Another feature of my boards is the strong leash attachment system, made from wood, braided nylon and epoxy resin. After glassing the board, a hole is drilled, the loop is tied, then glued into the hole using epoxy.
However you may buy a completly convensional surfboard, with future fins, and a normal leash plug. It`s just that I like the look of woodwork in a surfboard.