News...
I'm now in my first year at Durham University studying Natural Sciences, I`m back in Wales during the holidays, and shaping during these periods. Unfortunatley shaping a board in my room is out of the question, and I don't think my room mate would be too happy, although he does puts up with me repairing all my mates boards! However my house for next year has a garage, so I think I shall continue shaping for the Northern market during term time. Durham is an awesome Uni from a surfing point of veiw, 35min drive to a break called South Shields where a long hollow right breaks off the rocks at low tide, and the prevailing wind is offshore. A totally rad student set up the surf club there last year, and now its 120 members strong, with surfers with cars being plentiful. I'm really enjoying it there and definitly recomend it to any surfer.
On my last trip to Newquay I bought a 2nd hand board for £20. It was pretty battered but not nearly as bad as some boards that I`ve mended. I`ve worked on the nose, and got that back to shape, well I rounded it actually, just to see how it will perform.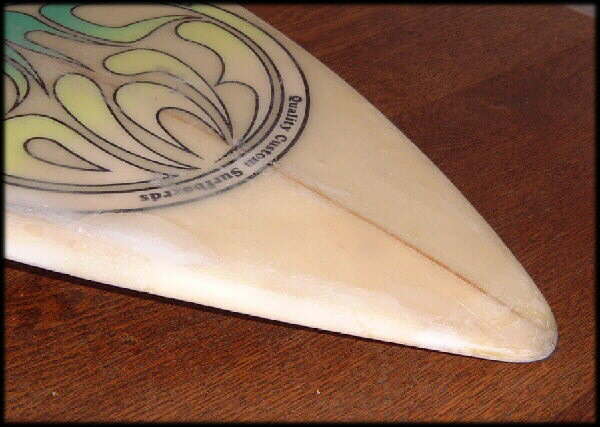 Also I found a deck grip on the beach, and am going to try and glue it onto the deck of this board using Plexus Ma550 glue, which my father uses for attaching rubber hatch fittings to the bulkheads of the boats.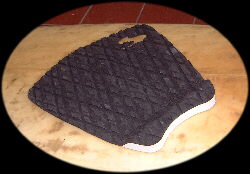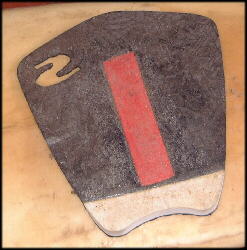 Firstly I will have to sand and clean the bottom edge of the deck grip, and remove any wax on the deck of the board where the patch will go, using an old bank card then a brillo pad and hot soapy water.
I have only just updated this website, so if you have noticed any spelling mistakes, or links that don't work, or areas which you think I should improve on, please e-mail me: Skuasurf@hotmail.com