Shortboards
I have now shaped three shortboards, two have been Fish shapes,the first was for my DT project, and the most recent shortboard was a 6` "pocket rocket". I ride the fish almost every time I surf and is now my favorite board. For DT my surfboard had to include an innovative design, so I decided to tackle the area which I think has had the least thought (the fins). My Dad and I put thought into the fin shape, and the system. Being a keen skateboarder, I really wanted to do a 360, but had never come close to it before, and I felt that the fins were the way forward for me being able to do a 360. I made a system which would allow me to remove the fins and change them for other pairs. I made the leading and trailing edge straight (very rare on surfboards) to reduce drag, and improve performance whilst traveling backwards. I decided that on the local waves (small) I would probably stall during the 360, so I made the board buoyant to keep me afloat during the stall. I came up with a design which I felt was the best for performing sliding 360's and sure enough within a month of handing it in to be marked, I did my first 360 slide!
Before shaping a surfboard, I put in a lot of thought into which design would be best suited for the rider. I did many calculations on the relative buoyancy of different surfboards to find out what size board I should be aiming at. If you decide to buy a Skua shortboard I will try hard to make it the best possible design for you.
Here are pictures of my Fish.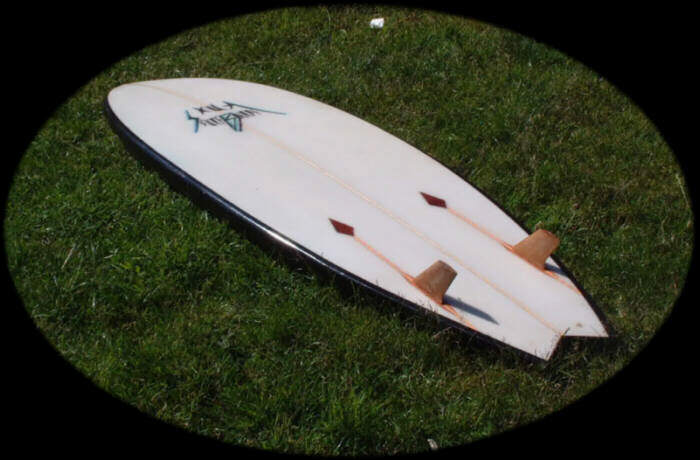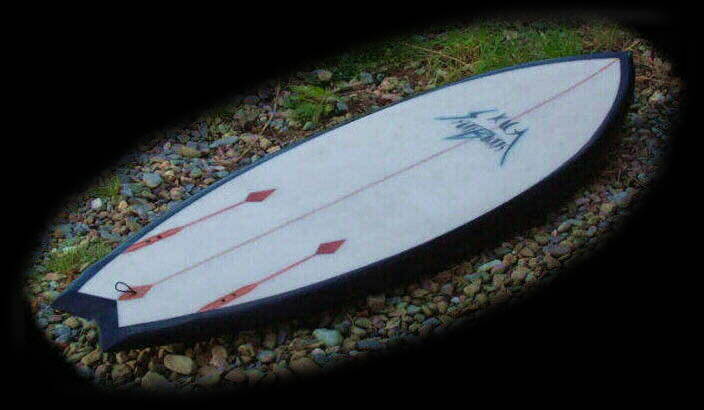 The dimensions are 5`11" x 21" by 3". It has a flat bottom contour (from rail to rail), and the lack of concave makes this board very loose (easy to slide). The fins are extremely small, 8 cm in height, loosening up the board even more, making it more forgiving (helps learners) and exciting (for intermediates). The rail edge is as follows, starting from the front: Round 50/50, moving to a Rolled edge in the middle, followed by a hard low rail edge at the tail. It has natural rocker, though I think the next Fish I shape will have slightly more nose rocker, to make it slightly more elegant and help stop pearling (nose diving) in larger waves. This board is great for beginners and intermediates, it was designed for small waves (no higher than overhead), and poor conditions (messy, blown out etc.) so you can have the maximum fun out of those blown out days we have so often here in Britain.
Also here are photos of the newest fish, that was made for a skateboarding and snowboarding mate of mine. I decided it would be a good learner design for him as he has progressed extremly quickly in both skating and snowboarding. This is similar in shape to my fish but it is 6`2" long for a little extra bouyancy.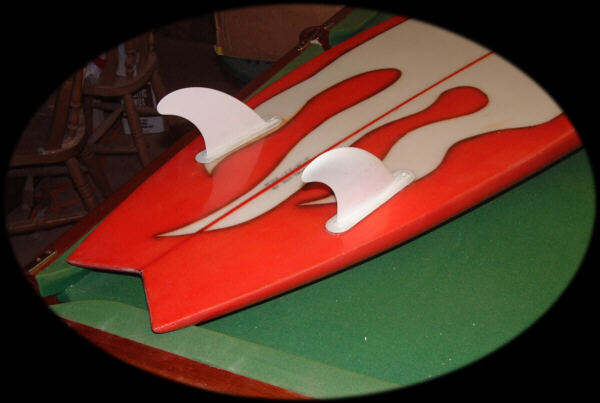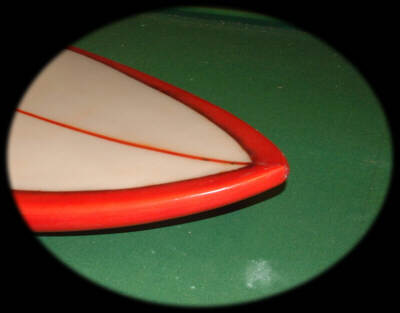 I`ve invested a fair amount of money in my airbrush, and now I really enjoy painting the artwork on my boards.
My latest board, is a 6`0 by 19" by 2 1/4", a typical "pocket rocket" design, it has flat bottom contour, but a domed deck so the rails are thin giving the board a very responsive feel.-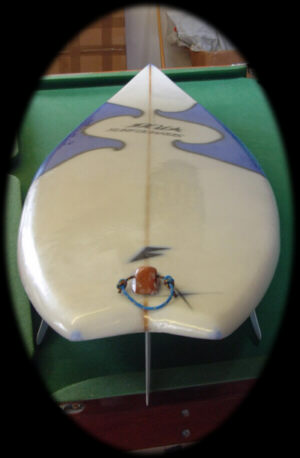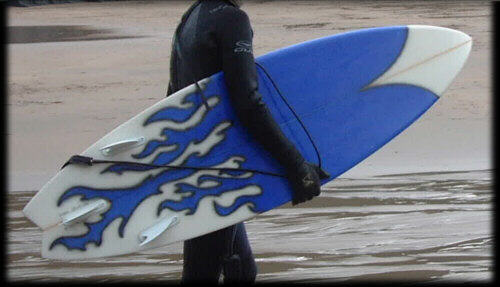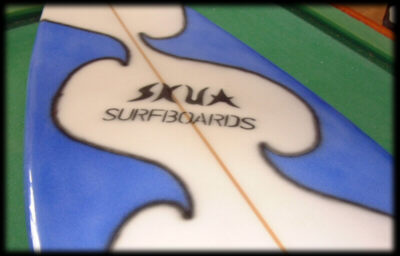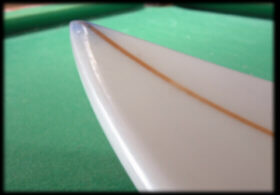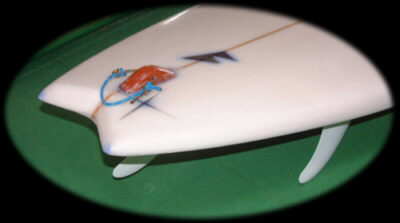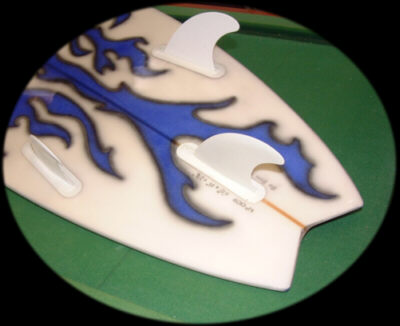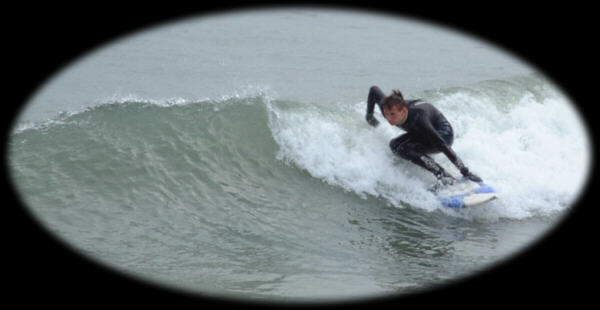 Prices -
£225 for a Fish shape, (or shortboard less than 6`2)
£230 for a standard shortboard. (6`2"-6`8")
All boards can have my removable fin system, extra stringer designs, and Iroko fins. The fins can be shaped to the shape of your choice (you don't have to have straight edged ones). Alternatively you can have fixed fins if you prefer, but removable fins are better for traveling. I now also use the "Future Fin System" on my boards as they are quick to remove and hassle free.